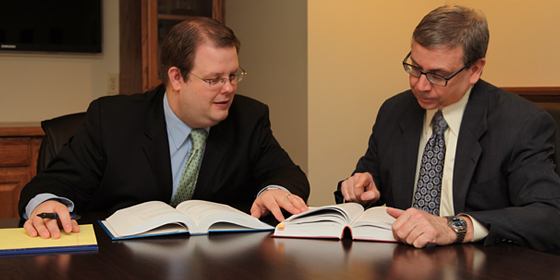 Attorney Profiles
J. Jeffrey Anderson
J. Jeffrey Anderson was born and raised in Jackson, Michigan. He obtained his bachelor's degree from the College of Wooster, graduating with honors in history. He graduated from Wayne State University with a Doctor of Jurisprudence degree. Mr. Anderson holds an AV rating from Martindale-Hubbell Peer Review, the highest rating for both legal ability and ethical standards.
After law school graduation, Mr. Anderson became an associate in his father's law firm, where he gained a broad knowledge of the law by undertaking numerous types of cases and transactions. Mr. Anderson now concentrates in real estate, land development, estate planning, probate estates, business entity formation and matters relating to all phases of the efficient operation of small to medium size businesses.
Mr. Anderson is active in both charitable and civic organizations, including as a member of the Salvation Army advisory board, Jackson Area Estate Planning Counsel, and President and board member of the Great Lakes Hospice Foundation. He has also served on numerous boards of both private and financial institutions. Mr. Anderson and his wife, Cherrine, raised their four children in Jackson County where they enjoy gardening, reading, photography, bicycling and their grandchildren.
Steven E. Makulski
Steven E. Makulski was raised in Detroit, graduating from Holy Redeemer High School as the valedictorian. He received a bachelor's degree from Wayne State University in public affairs. Mr. Makulski later graduated cum laude from Thomas M. Cooley Law School.
Mr. Makulski concentrates in the areas of estate planning from basic wills to complex trust planning, probate and trust administration, real estate, and business transactions. Mr. Makulski also has experience in resolving complicated trust and estate issues such as trust modification, reformation, and termination. He represents both individual and corporate (bank) trustees and has assisted numerous clients with disputes through negotiation, mediation, nonjudicial settlement agreements, and litigation. Mr. Makulski has been appointed special trustee and has been able to assist or resolve issues relating to trust interpretation and clarification of ambiguities.
In addition to his experience in the estate planning area, he also has assisted clients with large and small business transactions including those involving Michigan Liquor Control COmmission (MLCC) Licenses and permits. Mr. Makulski also represents and advises business clients with formation of business entities (C-Corps, S-Corps, LLCs), everyday ongoing business legal matters, succession planning, sale of business, and dissolution.
Mr. Makulski has vast experience in real estate matters such as real estate development, environmental matters, and he has assisted clients with forming condominium projects and has advised and represented condominium and homeowner association on a regular basis.
Mr. Makulski attends Queen of the Miraculous Medal in Jackson. He is a member of the Jackson Area Estate Planning council (President 2019-2020), Jackson County Chamber of Commerce Board of Directors, Farmers State Bank Board of Directors, Rotary Club of Jackson (past president), and currently serves on the Rotary Foundation of Jackson County.